My very favorite pie crust that I have been using for GF is from Annalise Roberts. Here is the recipe and a link to her blog. She wrote my favorite GF cookbook, too... Gluten Free Baking Classics.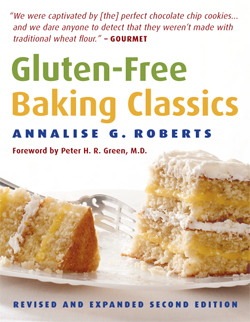 The tart shell crust is very durable but she does have a pie crust recipe, too. Her books are fabulous!
Makes one 9-inch pie crust
or one 9-inch tart crust.
1 cup Brown Rice Flour Mix*
1 teaspoon xanthan gum
5 tablespoons cold unsalted butter
1 teaspoon pure vanilla extract
Preheat oven to 350ºF. Position rack in center of oven. Grease 9-inch pie pan or tart pan (with removable bottom) with cooking spray. Generously dust with rice flour.

Combine flour, sugar, and xanthan gum in large bowl of electric mixer (or food processor). Add butter and mix (or pulse) on low speed until crumbly. Add vanilla and mix well. Gently press into bottom and up sides of pie or tart pan (if you pack the dough too densely, the crust will be hard to get out of the pan. If you pack it too loosely, the crust will be a bit crumbly).

Bake in center of oven for about 18 minutes or until light golden. Cool on rack in pan. For a tart, place pan on top of a broad glass and carefully push down sides then slide onto a serving plate (it will be easier to slide it off the metal bottom when it is cool). For best results, remove pan sides and bottom once tart shell is filled and chilled.
I will continue to share gluten free things as I go. This is just the beginning of the adventure. I am still baking other stuff that is not gluten free for my family and for clients so that will still get shared, too. I want to focus much more on naturally gluten free foods in my diet and will give you goodies as I go.
Here is a picture of one I did for a client but I added ground nuts to add more texture. It was yummy!
For November... there will be soup... finally. I think I have been promising that for a couple of years but it is time! :)