There are probably more gluten free flour options on the market now than ever before.
You saw my pantry yesterday and some of the gluten free options I use.
You have some choices to suit your personal level of skill out there.
First, you can purchase mixes... brownie, pancake, biscuit, cake, etc...
These function just like other mixes you would buy out there that are not gluten free. They have the instructions on the back and you just add the liquids to make whatever you want. Check your baking and gluten free sections in the grocery store to find these. Many companies are contracting out their gluten free products to ensure their safety and packaging them with their name brand like Duncan Hines or Pilsbury just to name a few.
If you choose to buy a GF flour blend and make your own recipes then you want a Cup 4 Cup or (C4C) blend that can be substituted in your favorite recipes.
Some places you can buy C4C flours include...
Bob's Red Mill
(they also sell mixes like I mentioned above)
(they also sell mixes like I mentioned above so
Also, check your local health food store or grocery store that might have gluten free C4C flour blends.
Now, if you are all in like I am and want to make everything from scratch then here is the scoop on all things gluten free to mix your own flour.
I, personally, use the following...
Rice Flour
(both brown and white)
this is milled rice
Sorghum Flour
Garbanzo Flour or other bean flours
(milled beans to make a powdery flour)
Coconut Flour
Buckwheat Flour
(which has no wheat despite it's name)
Due to soy allergies in my home we do not use soy flour but it might work for you.
Some people also use Fava Bean Flour and a blend of Garbanzo/Fava called Garfava. I have not played with this one much, yet.
Other items I use in mixing my own are...
Potato Starch
Potato Flakes
Tapioca Flour
Xanthan Gum or Guar Gum
Now, you might ask, "Why the gums?"
This is strictly for texture purposes. It helps to imitate gluten in the breads. This is very important when making gluten free yeast breads because it is what holds the bread together with strands so that it will rise and bake and be like real bread. I know it is a man-made ingredient but it is necessary for most of the bread and pastry items to give it a good texture and structure to imitate the wheat items. It will run you from about $8.00 to $12.00 per bag but you use very little at a time and it lasts a very long time.
You need to know that coconut flour acts differently, too and I recommend a coconut flour cookbook to guide you through that process. Many people on Paleo diets use coconut flour and milk in their baking to increase the protein and lower the carb effect.
This is the book I am playing with right now...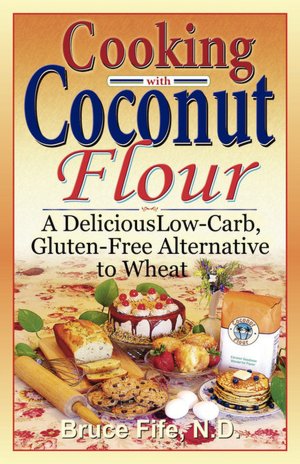 This is by NO MEANS an exhaustive list but it should get you started. Look around on the flour websites and product options. Take a look at this video below and check out some of their other videos. This video series is from the GF and other food allergies magazine called
Living Without
. It is a FANTASTIC resource so have a look around their website, too. There are many varieties of flour blends you can make and I urge you to try some and adjust to find what works for you and your family.
Enjoy this demo on making your own flour blend. She is very helpful!